We have been quiet here on the Talent Metrics blog, but not for lack of trying. With SIOP submissions, some recent manuscript submissions and client projects we have been busy. We just haven't had time to post on the blog. The blog is a key part of what we're about at Talent Metrics because part of our company mission is to advocate for evidence-based data driven management and people practices. A large piece of that mission is being a part of local organizations. Each of the principal consultants at Talent Metrics is involved in some local organization related to human resources, talent management and I-O Psychology. Our advocacy comes in multiple forms whether its poster presentations at SIOP or the Association for Psychological Science or writing research articles. This has expanded to participating in podcasts and speaking engagements.
Recently Mike and I were on the Department 12 Podcast with our pal Dr. Ben Butina. Give the podcast a listen. Ben does a wonderful job interviewing some great names in I-O and talent management, you can learn a lot. Check out Mike and I discussing Text Analytics here
Over the next two weeks Mike and I will be participating in a series of speaking engagements. On November 9th I'll be speaking with the Moxxie Mentoring Network Moxxie is a terrific "women's business community of high-achievers that provides resources, connections and experiential knowledge to peers" The organization provides young women the opportunity to connect, network, and learn from other women in business. I'll be discussing talent management strategy and employer branding.
On November 16th Mike and I will be presenting at the Association for Talent Development NYC I have been a member of ATD for quite a while and I currently serve on the ATD Long Island board (my local chapter!) Mike and I will facilitate a Conversation Hour about People Analytics. You can register for the event here or reach out to us by email if you have specific questions.
Finally, on November 18th I'l be participating on a Diversity and Inclusion panel at NYU as part of a NY Organizational Psychology Student Association event. Check out the flier below for more information.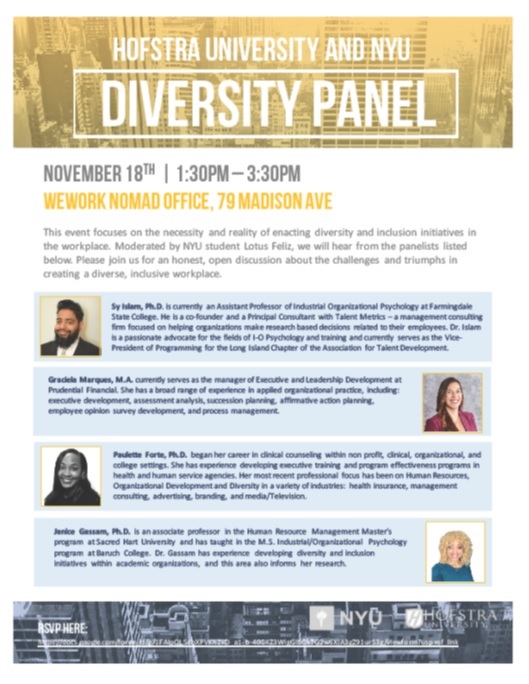 We'd like to see you at any of these events. If you can't attend one of the above events and would like us to present feel free to reach out to us. We're always happy to visit!